Avadis Tevanian Jr
---
SEARCH
:
Home
:
Unix Contributors
---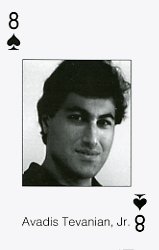 Contribution
B.A., Mathematics, University of Rochester
M.S., Ph.D., Computer Science, Carnegie Mellon University
Currently Apple Computer's chief software technology officer. One of the early Unix developers part of the DEC UNIX Group. He first earned recognition in the software field at Carnegie Mellon, where he was designer and eng ineer of the Mach operating system. Tevanian then joined NeXT as a NeXTStep engineer in January 1988, where he applied that Mach expertise to Steve Jobs' post-Apple computing vision. Tevanian managed a team responsible for porting NeXTStep to RISC-based systems and was behind the development of Portable Distributed Objects, the NeXT technology that made it possible to develop software on multiple operating systems.
Why is the picture on a Playing Card
---
HOME | Flavors | Admin | Network | Security | S/W | Help | Events | Vendors | Careers | Internet
About | Add Link | Feedback | Search
---
Copyright © 1994-2005 Unix Guru Universe