Rob Gingell
---
SEARCH
:
Home
:
Unix Contributors
---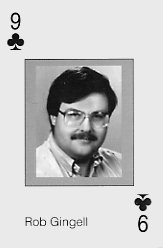 Contribution - (Full Bio)
Gingell had a chance to work on a number of projects for the Advanced Research Projects Agency (ARPA) associated with the U.S. Department of Defense, an early sponsor of Unix system development.
He has spent much of his career at Sun Microsystems trying to get the other technology gurus at the company to follow his lead. As the chief technologist for Sun's system software group, Gingell ran herd on Solaris, Java, and the entire portfolio of servers and development tools.
Why is the picture on a Playing Card
---
HOME | Flavors | Admin | Network | Security | S/W | Help | Events | Vendors | Careers | Internet
About | Add Link | Feedback | Search
---
Copyright © 1994-2005 Unix Guru Universe