- Home : Unix Contributors
---
Doug McIlroy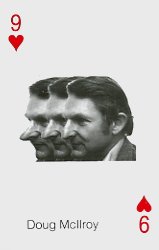 Contribution
Douglas McIlroy is a professor of computer science, mathematician, engineer and famous programmer. He is known for having invented:
* The pipes and filters architecture of UNIX
* The entire concept of software componentry
* Several UNIX tools, such as spell, diff, sort, join, graph, speak, tr, etc.
He earned a Bachelor's degree in engineering physics from Cornell University in 1954, and a Ph.D. in applied mathematics from MIT in 1959. Became head of the research department at Bell Labs in which Unix was born.

Languages and compilers worked on: macros, Lisp, PL/I, TMG, regular expressions; influenced Snobol, Altran, C++

Related Links
Why is the picture on a Playing Card