- Home : Unix Contributors
---
Larry Wall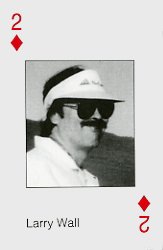 Contribution
Larry Wall (b. September 27, 1954), programmer, linguist, author, is most widely known for his creation of the Perl programming language in 1987.
Wall is the author of the rn Usenet software and the nearly universally used patch.
Related Links

Home Page of Larry Wall

Quotes by Larry Wall

Authoritative List of Larry Wall

Linux Weekly News, World Domination? That's Hubris.

Why is the picture on a Playing Card